Bungalow - ZonnigHuisOpTexel
Te huur "Zonnig huis op Texel", Krim 768, woon-oppervlak 80m2, tuin 315 m2.
Dit Vakantie-huis is de helft van een geschakelde Dubbel-bungalow met grote tuin aan de rand van Vakantiepark "de Krim" bij de Cocksdorp op Texel, zonnig gelegen op het zuiden.
Het huis is een ruime 4-persoons.
Indeling: grote woonkamer/keuken, 2 slaapkamers, één met een tweepersoonsbed, en één met een tweepersoonsbed èn een stapelbed, in totaal slaapplaats voor 4 volwassenen, en evt.2 kinderen, badkamer bad/douche in bad/baby-badje.
Niet roken, geen huisdieren .
Er is een vaatwasser, magnetron, koffiezetapparaat en een Nespresso-machine, wasmachine, droogmolen en droogrek, kampeer-kinderbedje, 2 fietsen, kinderfietsje, bolderwagen, Internettoegang en vrij WiFi, Televisie.
Het is een vrij groot park met veel extra's, zoals binnen-en-buiten-speeltuin, springkussen, voetbalveldje, kampwinkel, fietsverhuur.
Omdat wij een basis-contract met het park hebben wij geen gratis zwembadtoegang.
Wisseldag op Zaterdag.
NB: omdat Texel een beperkt electriciteitsnet heeft is opladen van electrische auto's niet mogelijk/toegestaan, op de centrale parkeerplaats zijn laadpalen beschikbaar.
Op de naburige Golfbaan geldt reductie voor gasten van "de Krim"
Wij berekenen niet de prijs die het park voor een zelfde bungalow vraagt maar bieden een korting van 30% van de Parkprijs, in principe alleen per week of langer
Guest house
Bungalow
Max. 4 guests
2 bedrooms
No weekend rentals
Address: Roggeslootweg 768
Camping/park: de Krim
Facilities
Baby Cot

Bad

Bicycles storage

CD Player

Central heating

Children's Chair

Dishwasher

DVD Player

Freezer

Heating with stoves

Microwave

Parking provided

Radio

Refrigerator

Separate toilet

Shower

Television

Terrace with garden furniture

Washing Machine

WiFi
Information neighborhood
Bar
Bicycles rental
Covered swimming pool
Dunes and beach
Entertainment opportunities
Fishing features
Forest
Golf course
Internet opportunities
Playing facilities
Restaurant
Rural Area
Sports facilities
Supermarket near
Water sport possibilities
Price from
to
€ 390.00
€ 999.00
Availability & Prices
Free
On request
Occupied
Changeover
August 2022
mo
tu
we
th
fr
sa
su
1
2
3
4
5
6
7
8
9
10
11
12
13
14
15
16
17
18
19
20
21
22
23
24
25
26
27
28
29
30
31
September 2022
mo
tu
we
th
fr
sa
su
1
2
3
4
5
6
7
8
9
10
11
12
13
14
15
16
17
18
19
20
21
22
23
24
25
26
27
28
29
30
October 2022
| mo | tu | we | th | fr | sa | su |
| --- | --- | --- | --- | --- | --- | --- |
| | | | | | 1 | 2 |
| 3 | 4 | 5 | 6 | 7 | 8 | 9 |
| 10 | 11 | 12 | 13 | 14 | 15 | 16 |
| 17 | 18 | 19 | 20 | 21 | 22 | 23 |
| 24 | 25 | 26 | 27 | 28 | 29 | 30 |
| 31 | | | | | | |
November 2022
mo
tu
we
th
fr
sa
su
1
2
3
4
5
6
7
8
9
10
11
12
13
14
15
16
17
18
19
20
21
22
23
24
25
26
27
28
29
30
December 2022
mo
tu
we
th
fr
sa
su
1
2
3
4
5
6
7
8
9
10
11
12
13
14
15
16
17
18
19
20
21
22
23
24
25
26
27
28
29
30
31
January 2023
| mo | tu | we | th | fr | sa | su |
| --- | --- | --- | --- | --- | --- | --- |
| | | | | | | 1 |
| 2 | 3 | 4 | 5 | 6 | 7 | 8 |
| 9 | 10 | 11 | 12 | 13 | 14 | 15 |
| 16 | 17 | 18 | 19 | 20 | 21 | 22 |
| 23 | 24 | 25 | 26 | 27 | 28 | 29 |
| 30 | 31 | | | | | |
February 2023
mo
tu
we
th
fr
sa
su
1
2
3
4
5
6
7
8
9
10
11
12
13
14
15
16
17
18
19
20
21
22
23
24
25
26
27
28
March 2023
mo
tu
we
th
fr
sa
su
1
2
3
4
5
6
7
8
9
10
11
12
13
14
15
16
17
18
19
20
21
22
23
24
25
26
27
28
29
30
31
April 2023
mo
tu
we
th
fr
sa
su
1
2
3
4
5
6
7
8
9
10
11
12
13
14
15
16
17
18
19
20
21
22
23
24
25
26
27
28
29
30
May 2023
mo
tu
we
th
fr
sa
su
1
2
3
4
5
6
7
8
9
10
11
12
13
14
15
16
17
18
19
20
21
22
23
24
25
26
27
28
29
30
31
June 2023
mo
tu
we
th
fr
sa
su
1
2
3
4
5
6
7
8
9
10
11
12
13
14
15
16
17
18
19
20
21
22
23
24
25
26
27
28
29
30
July 2023
| mo | tu | we | th | fr | sa | su |
| --- | --- | --- | --- | --- | --- | --- |
| | | | | | 1 | 2 |
| 3 | 4 | 5 | 6 | 7 | 8 | 9 |
| 10 | 11 | 12 | 13 | 14 | 15 | 16 |
| 17 | 18 | 19 | 20 | 21 | 22 | 23 |
| 24 | 25 | 26 | 27 | 28 | 29 | 30 |
| 31 | | | | | | |
August 2023
mo
tu
we
th
fr
sa
su
1
2
3
4
5
6
7
8
9
10
11
12
13
14
15
16
17
18
19
20
21
22
23
24
25
26
27
28
29
30
31
September 2023
mo
tu
we
th
fr
sa
su
1
2
3
4
5
6
7
8
9
10
11
12
13
14
15
16
17
18
19
20
21
22
23
24
25
26
27
28
29
30
Previous
Next
Rental rates
Our guestbook
Leave a review in our guestbook!
Go to step 2Post review
Is this not quite what you were looking for? Other visitors that were interested in ZonnigHuisOpTexel also viewed:
Owner
H. Roukema en K. Meek
Member since 16 April 2019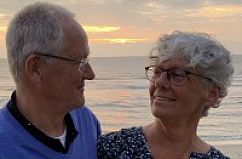 Wij zijn Henk&Ineke Roukema-Meek, we hebben sinds 2012 een prachtig zonnig gelegen vakantiehuis op Vakantiepark "de Krim" bij de Cocksdorp op Texel.
In de perioden dat we zelf niet op Texel zijn stellen we ons huis open voor verhuur, check de kalender voor beschikbaarheid.
We bieden een sterk gereduceerd tarief tov.de standaardprijzen.
---
Speaks:




Quotation / Reservation
From€ 390.00per week